Farmer's Markets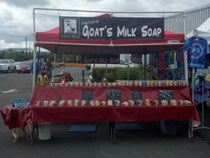 Vancouver Farmer's Market
6th & Esther St.
Downtown Vancouver, WA
Saturdays, rain or shine, 9:00am - 3:00pm.
Sundays as long as it is not pouring down rain, 10:00am - 3:00pm.
Note:We will not be at the market on Easter Sunday or Mother's Day.
March 16-Oct 27
Products usually at this market:
Goat's Milk Soap (65+ varieties)
Lotion (15+ varieties)
Liquid Soap
Perfume Roll-ons (10+ varieties)
Soy Candles (30+ varieties)
Lip Balm
Looking for a good deal?  Come to the Vancouver Farmer's Market on a fairly wet Saturday.
We usually offer a Rainy-Day-Special as a thank you for braving the weather!